SCALP




MICROPIGMENTATION



FOR MEN
SCALP MICROPIGMENTATION &
HAIR TATTOOS FOR MEN
Scalp Micropigmentation is a Modern Solution For Men Experiencing Hair Loss
SCALP MICROPIGMENTATION IS A HAIR TATTOO
MICRO PIGMENTATION THAT LOOKS LIKE REAL HAIR
Until the development of scalp micropigmentation, there were no solutions that offered truly guaranteed, natural-looking results. At Scalps® we are proud to offer Scalp Micropigmentation, and hair tattoo procedures for men who wish to correct the appearance of hair loss with safe, predictable, and instantaneous results every time. 
For men experiencing the effects of hair loss, a long list of topical lotions, cover-ups, drug-based solutions, and surgeries are available to solve the problem. However, none have shown the results and reliability that Micropigmentation of the scalp has delivered for our clients.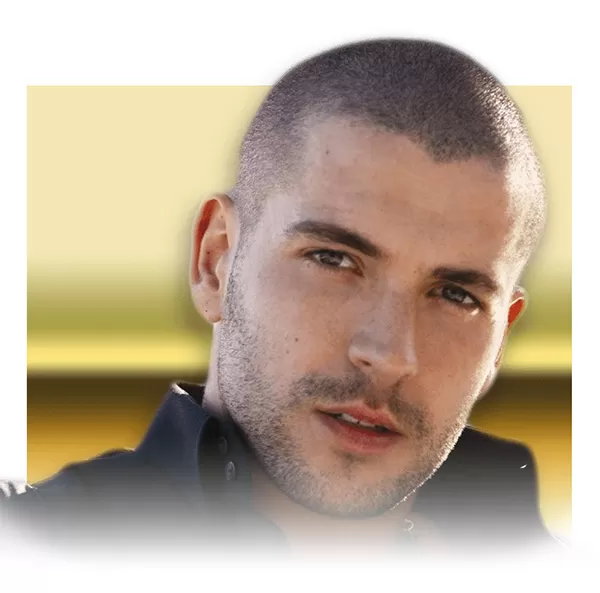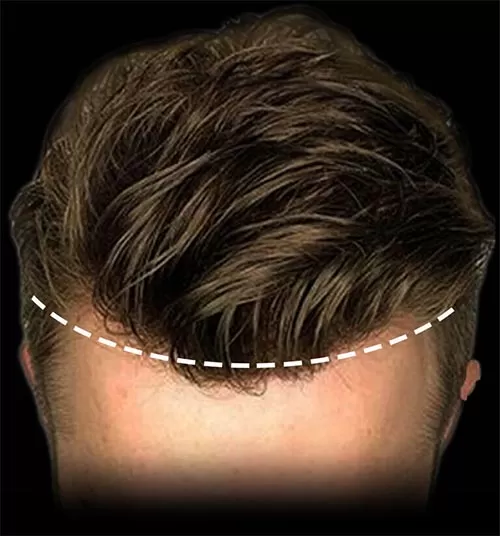 DIFFERENT TYPES OF HAIRLINES
CURVED, ROUNDED, AND STRAIGHT-EDGED HAIRLINES
When considering a scalp micropigmentation procedure, it's essential to understand the distinctions between curved, rounded, and straight-edge hairlines. A curved hairline mimics the gentle arc found in a natural hairline, offering a softer and more natural look. On the other hand, a rounded hairline features a subtle, rounded shape, providing a slightly bolder and slightly more defined appearance. 
In contrast, a straight-edge hairline creates a sharp and defined border. Each hairline style has its variations within the style, and the choice ultimately depends on personal preferences, facial features, and desired outcomes.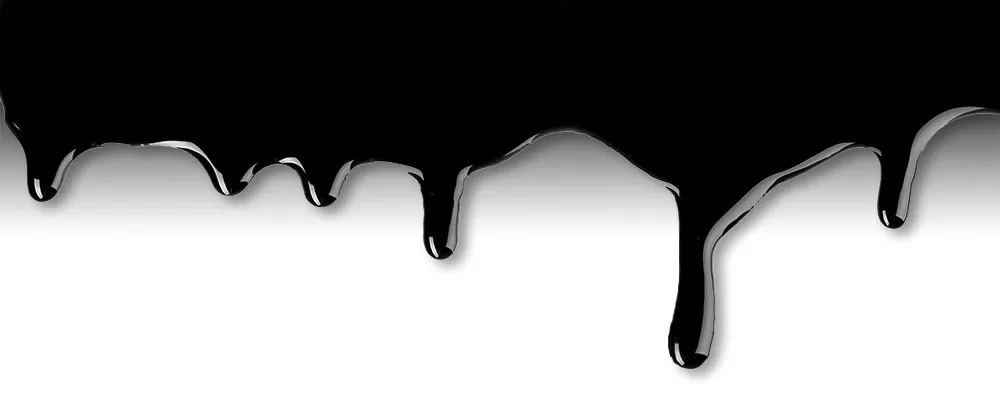 A curved hairline in scalp micropigmentation recreates the natural shape of a hairline with a soft, gentle arch. This design blends seamlessly with surrounding hair follicles, providing a realistic and balanced appearance. It enhances facial features and restores the look of a receding or thinning hairline, resulting in a more youthful aesthetic. The curvature of the hairline is customized based on factors like facial structure and hair density. Choosing a curved hairline offers a natural frame for the face, creating a soft and pleasing look.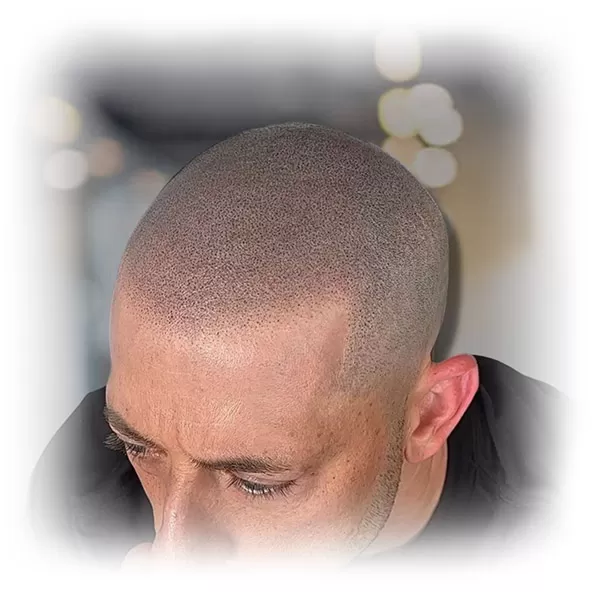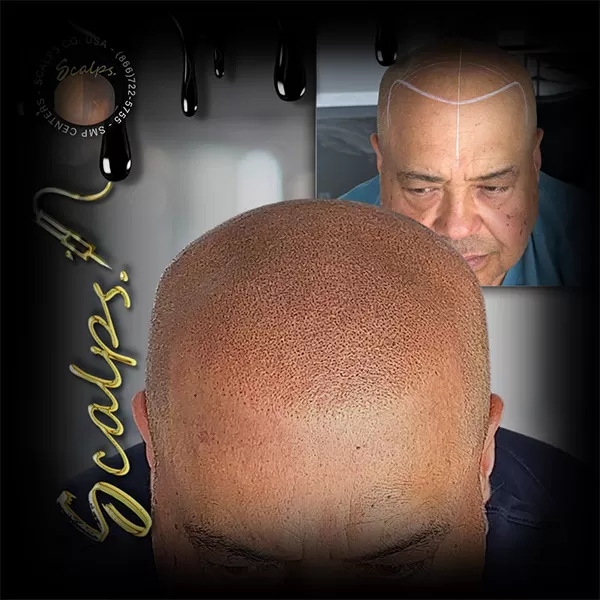 A round hairline in scalp micropigmentation features a subtle, rounded shape that adds definition and structure to the overall appearance. This style of hairline creates a slightly bolder and more pronounced look compared to a curved hairline. It provides a balanced and symmetrical frame for the face, enhancing facial features and creating a distinct aesthetic.
Opting for a round hairline in scalp micropigmentation offers a confident and defined contour that can help restore the appearance of a receding or thinning hairline, resulting in a fuller and more youthful look.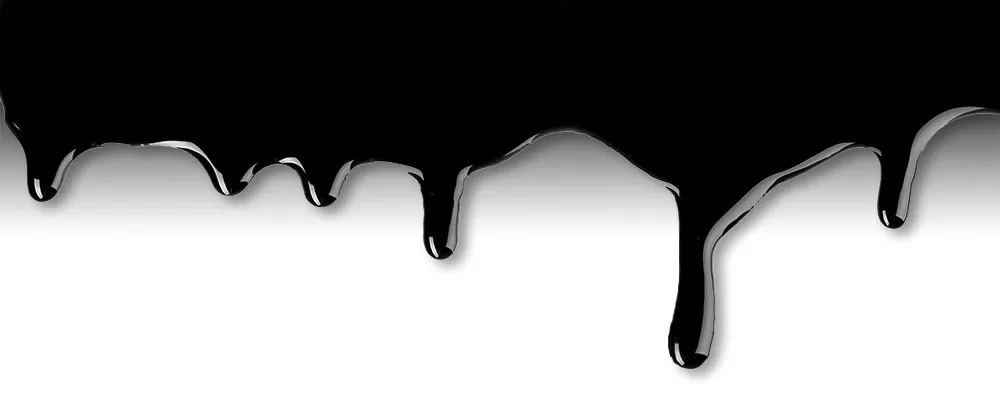 THE STRAIGHT-EDGED HAIRLINE
STRAIGHT HAIR LINES
BUT LESS NATURAL
A straight-edge hairline in scalp micropigmentation creates a sharp and defined border that offers a structured and mature look. Unlike curved or rounded hairlines, a straight-edge design provides a distinct and clean-cut appearance. This style can enhance facial features and create a more symmetrical and polished aesthetic. 
It is particularly suitable for individuals who prefer a well-defined and tailored hairline. Opting for a straight-edge hairline in scalp micropigmentation can help restore the look of a receding or thinning hairline, providing a crisp and refined result.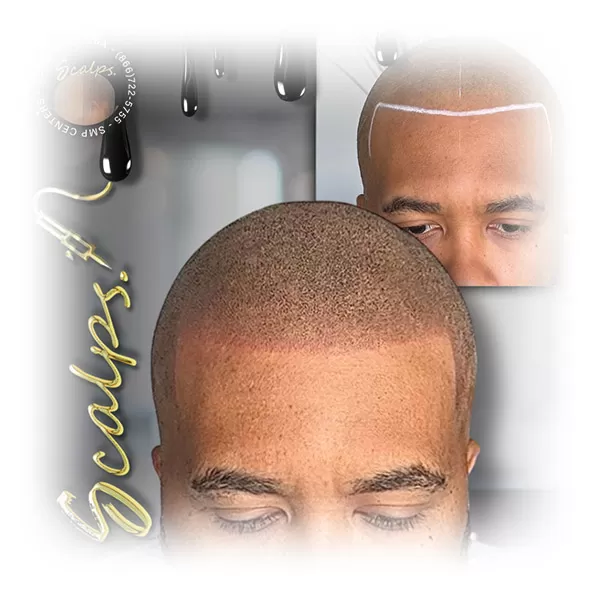 VOTED BEST SCALP
MICROPIGMENTATION CLINIC
We recognize you have a choice of providers, and we appreciate your business. For this reason, we make every customer journey special through the provision of world-class results, state-of-the-art studio, and VIP service for every client.
We are passionate about your satisfaction. We understand the anxiety of hair loss and how we've helped thousands leave it behind.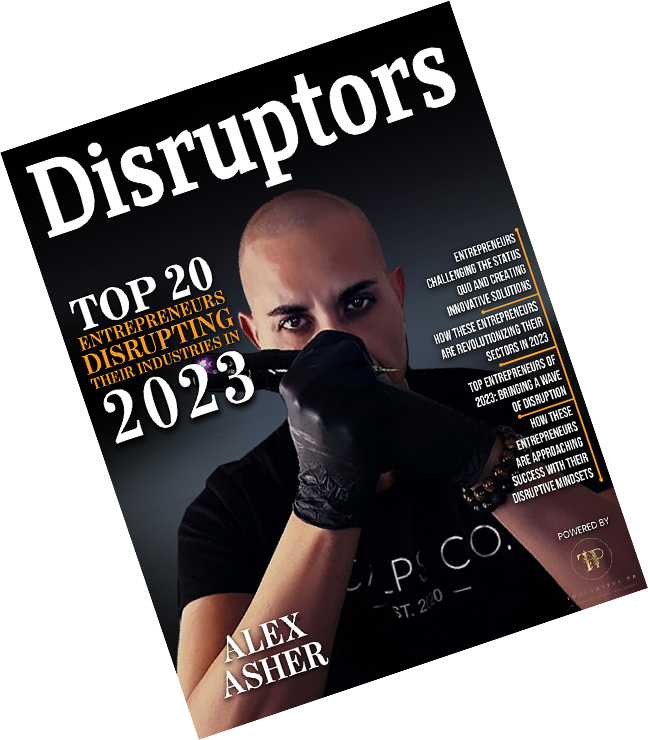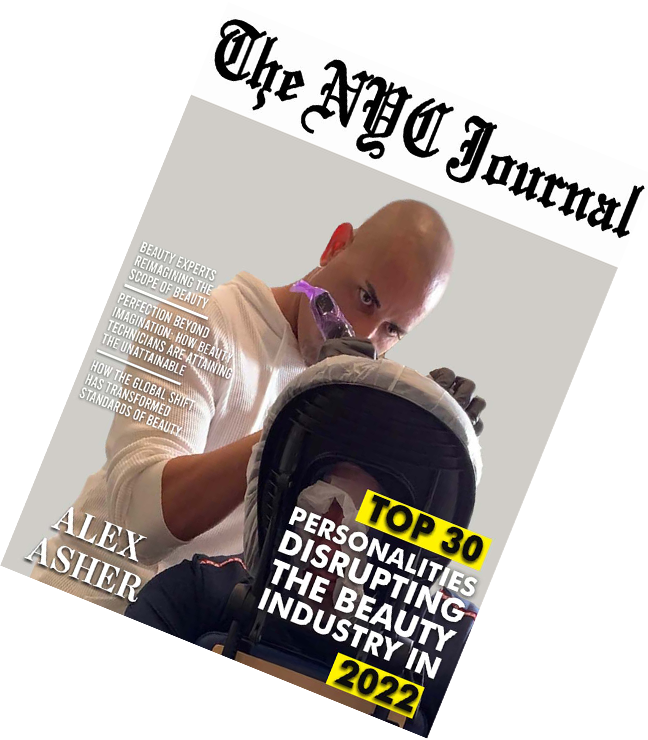 HOW DOES SCALP MICROPIGMENTATION FOR MEN WORK?
WHY HAIR TATTOOS ARE THE BEST OPTION
Men lose hair for a variety of reasons. Scalp micropigmentation for men is suitable for virtually all scenarios, so whatever the cause of your hair loss, we can help.
With the use of specialized equipment, we implant tiny pigment particles under the skin to resemble the look of real, natural-looking hair follicles. Learn more about pricing for a Scalp Micropigmentation procedure.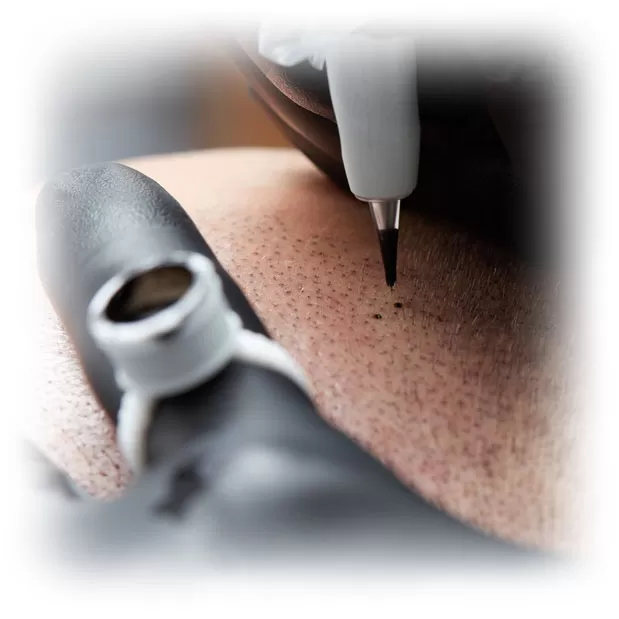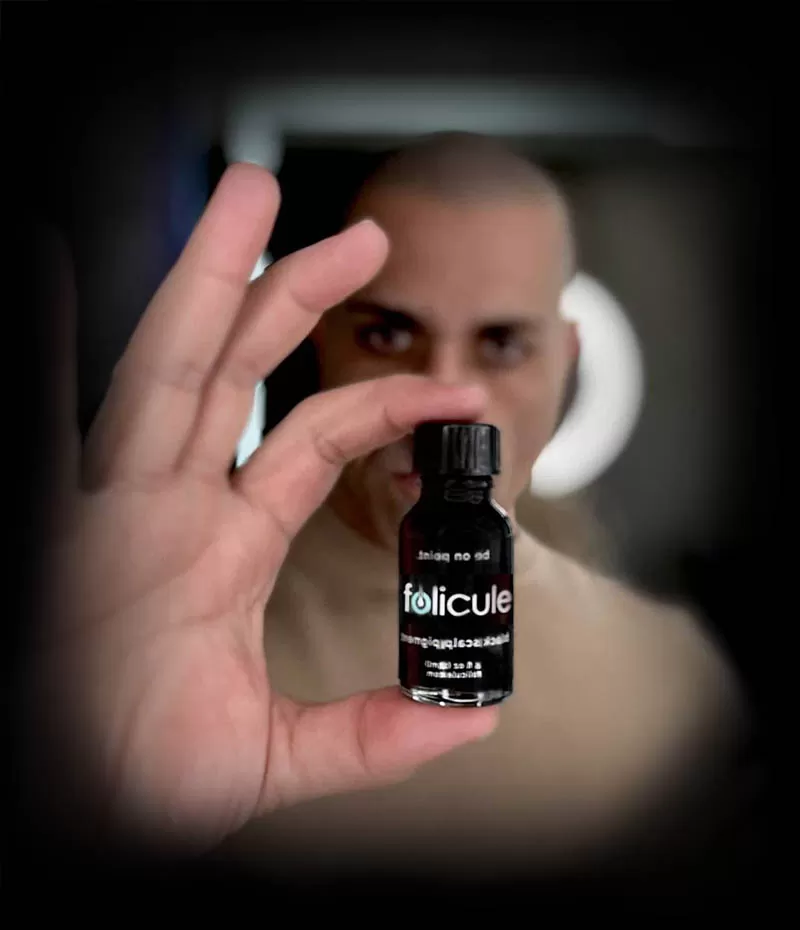 Whether you call it a hair tattoo, scalp tattoo, or a scalp micropigmentation procedure, deciding on a provider is not an easy decision. Make sure the artists are using only the best equipment and products for your scalp micropigmentation procedure.
We know there's nothing more important than your appearance. That is why we focus our attention on the most natural-looking results possible. At Scalps®, we only work with the best artists and the best products that are designed specifically for scalp micropigmentation procedures.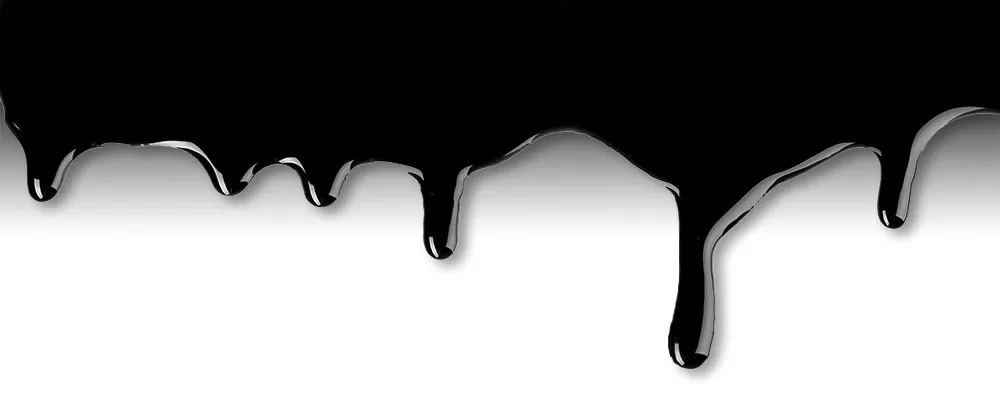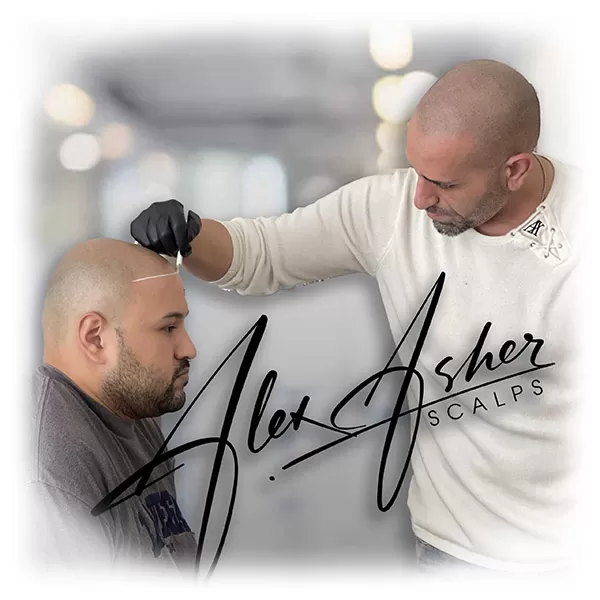 SMP HAIR TATTOOS ARE FULLY CUSTOMIZABLE
No two clients are the same. That's why we take an individually tailored approach to each treatment plan to ensure you enjoy the very best outcome.
When performing scalp micropigmentation for men, we factor in many variables such as your age, the extent of your hair loss, anticipated future hair loss, your hair and skin color, any medical conditions and of course your personal preferences for us to create a fully customized look.

TOP RATED SCALP MICROPIGMENTATION STUDIO
VOTED BEST CLINIC IN NEW JERSEY
We understand that when you come to us for a scalp micropigmentation procedure, it can feel like a very personal and private thing. You're trusting us to make your comfort our top priority—and we're happy to do so.
Our state-of-the-art studio is one of the most comfortable places you'll ever visit. We want you to feel at home because we know that feeling comfortable is key to having a great experience with us, so you can focus on getting the best treatment possible. Learn How to find the best Scalp Micropigmentation Studio near you.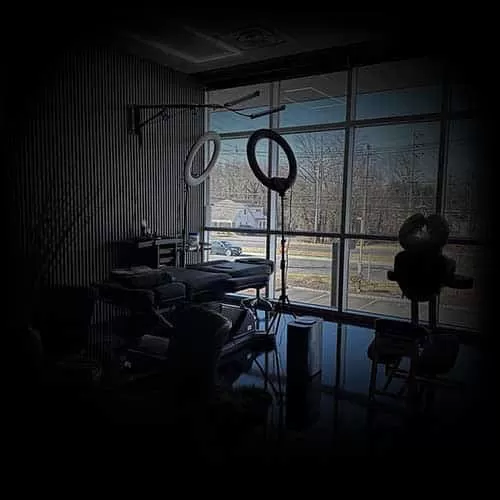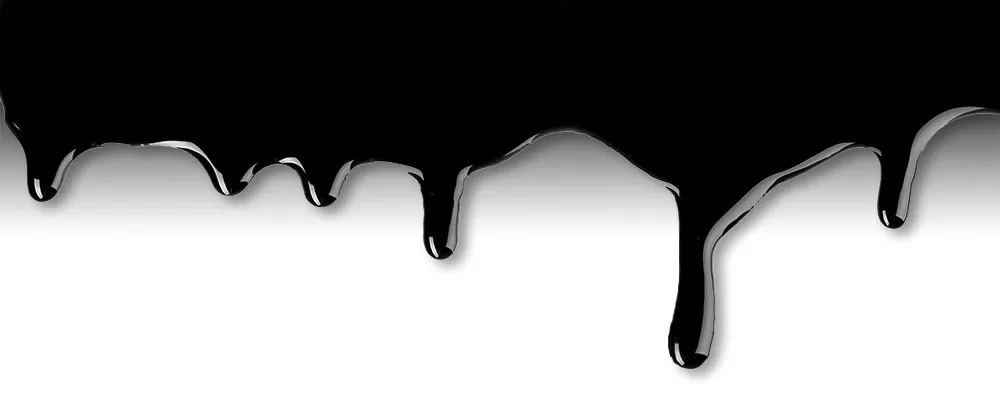 If you're in the market for a scalp micropigmentation procedure, it's important to know that the artist who does your work is licensed, insured, and properly trained as there are many things that can go wrong with inexperience. SCALPS has won numerous SMP awards and has helped thousands of clients regain their confidence experienced through hair loss.  
Click Here to look up your artist by name directly on the AAM website and feel confident you're in good hands.
Flexible Payment Plans Start at $100 Per Month
Apply Now
With No Impact To Your Credit
FINANCING YOUR SCALP MICROPIGMENTATION PROCEDURE
Financing your Scalp Micropigmentation procedure is a great option to split the cost of your treatment into monthly payments. You can choose monthly payments from 6-24 months with plans starting as low as 0% APR. Use our Payment Calculator to determine how much your monthly payments would be.
"I wish I knew about this years ago. Very simple process and a lot less painful than I imagined"